Directly from the Artist's Studio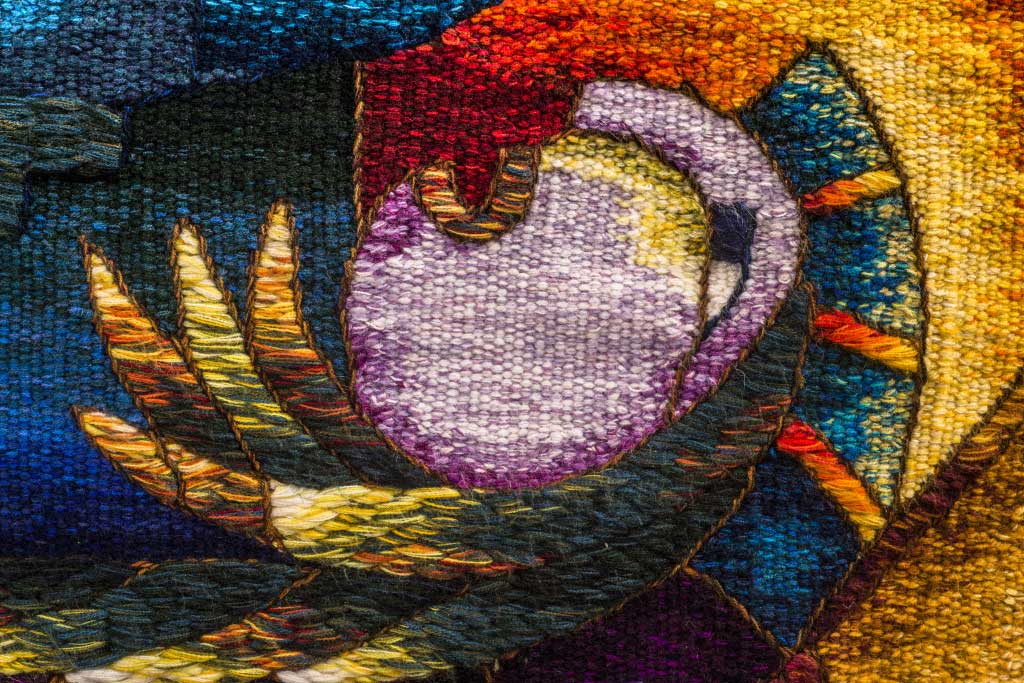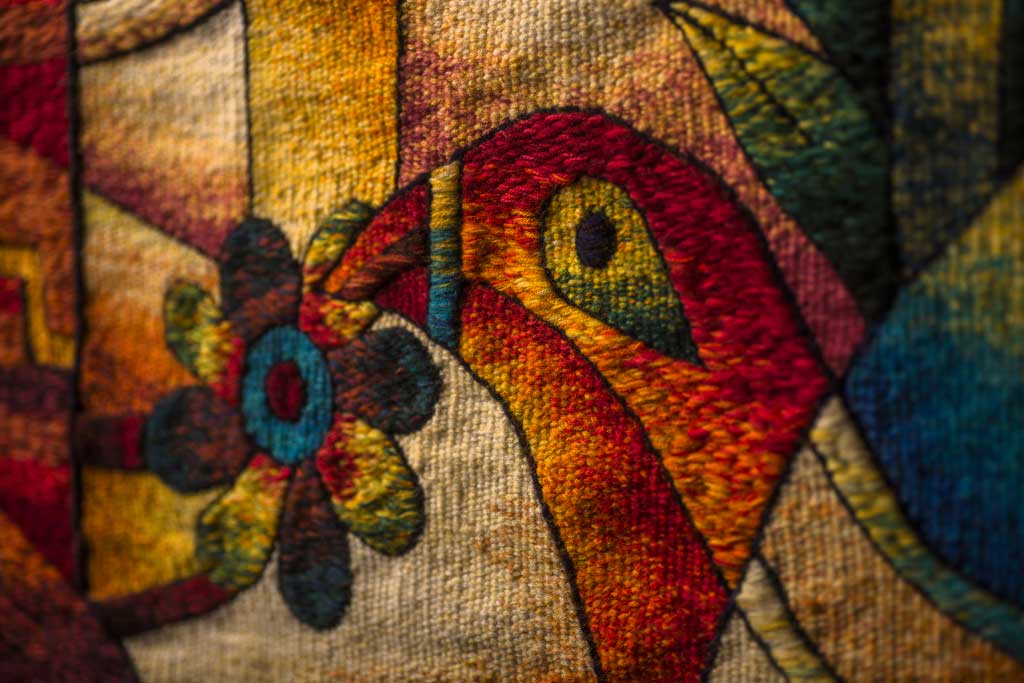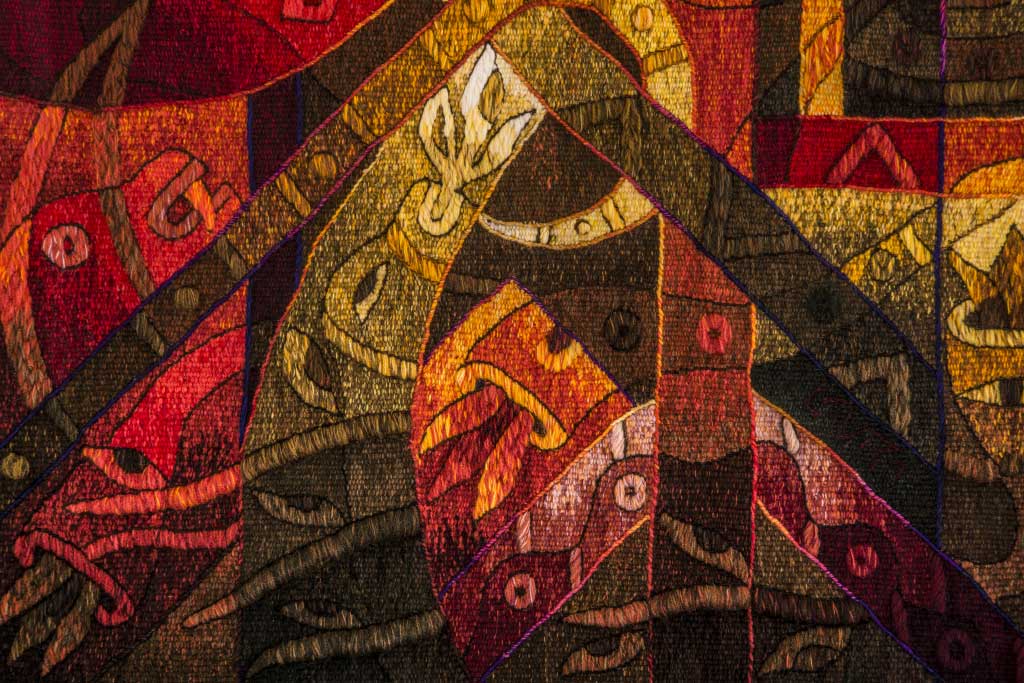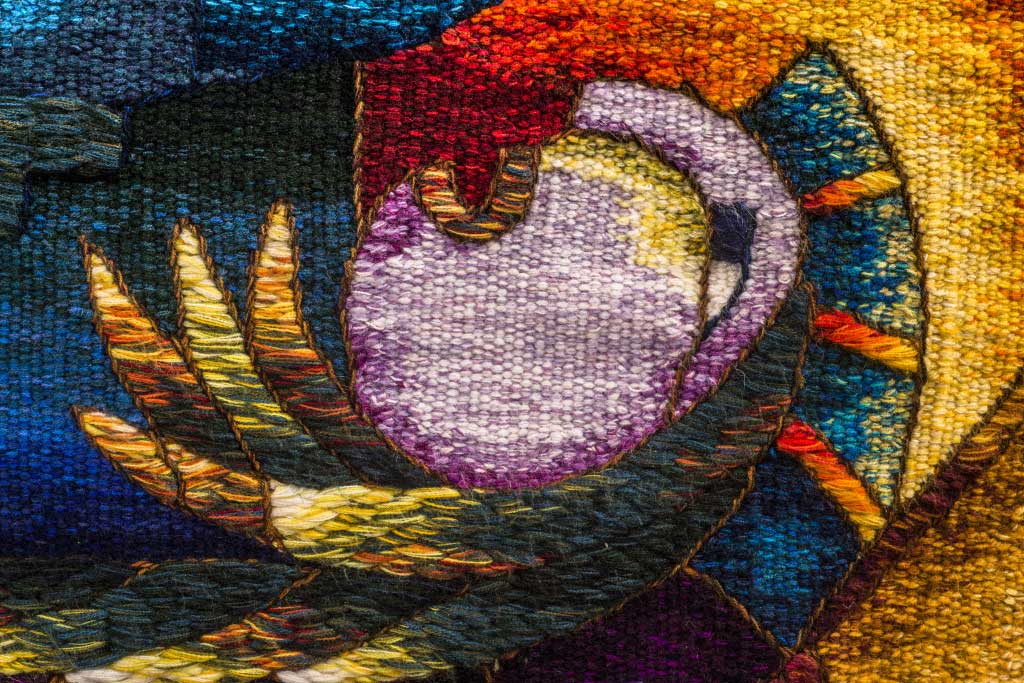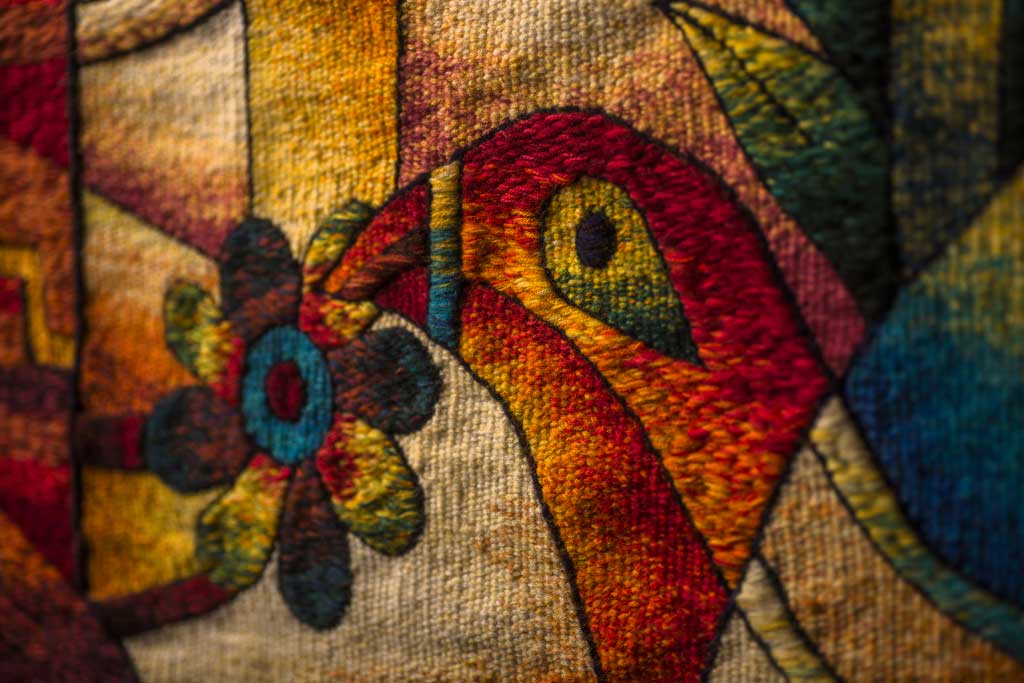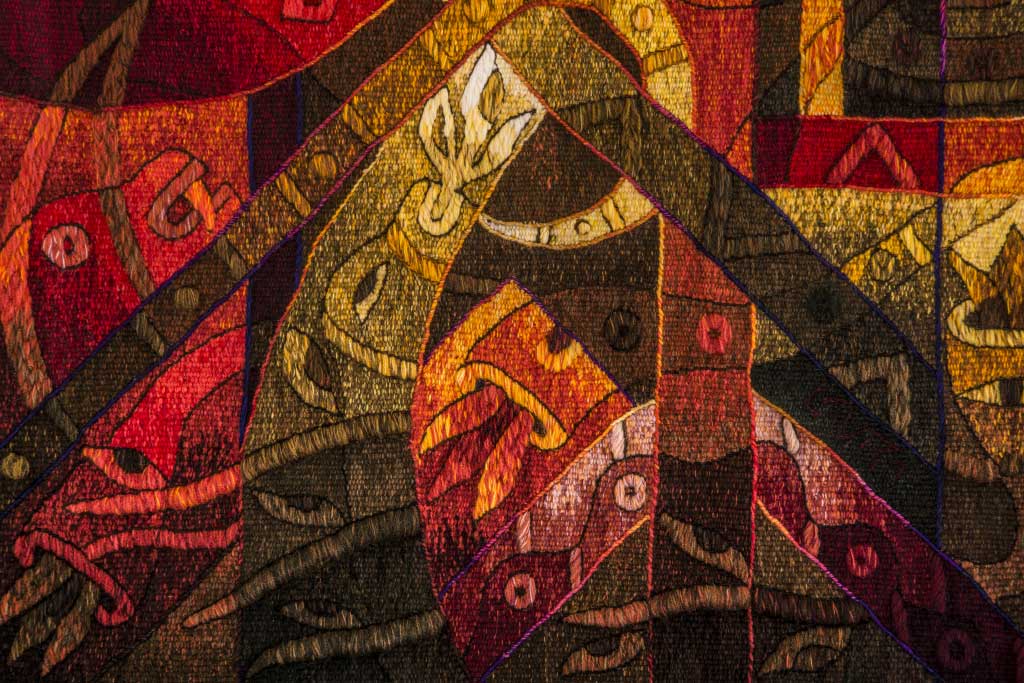 Living between Fibers and Colors
"Maximo's work represents a masterful continuity in Peru's textile traditions. His work is a woven symbiosis of Ancient Andean Textiles, international influences, and something deeply personal. It's art." – Hand/Eye Magazine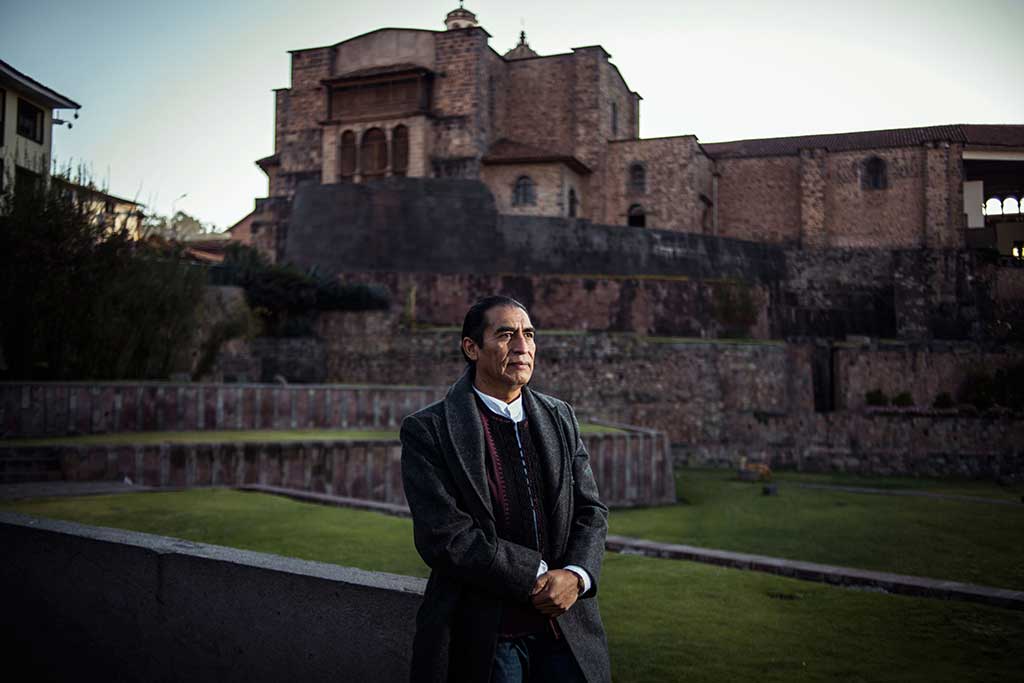 Biography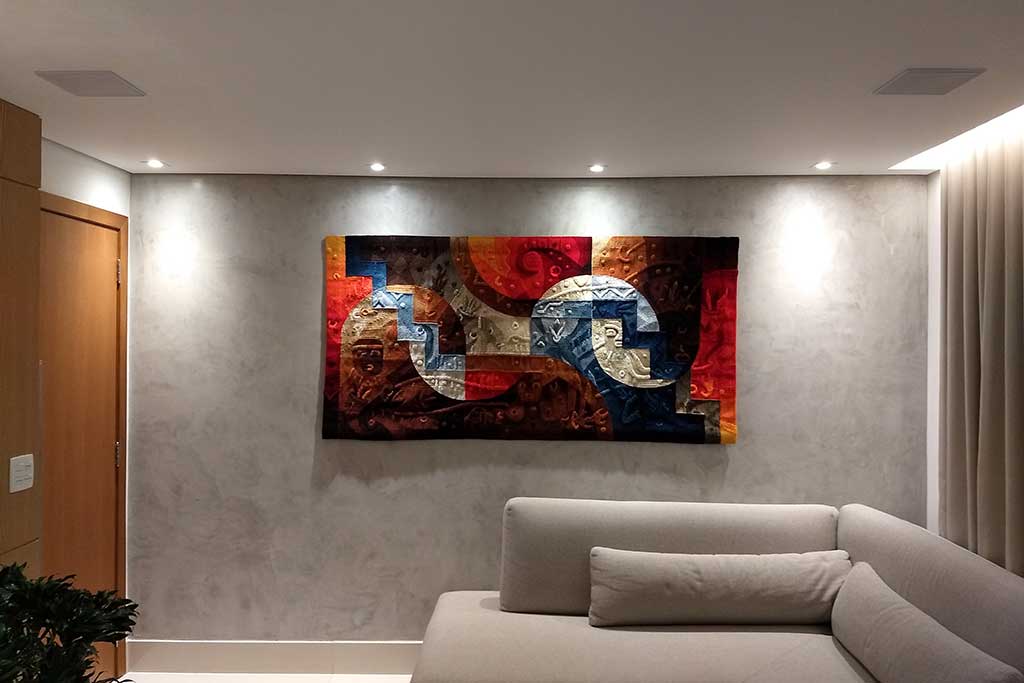 Buy Today ... Enjoy Forever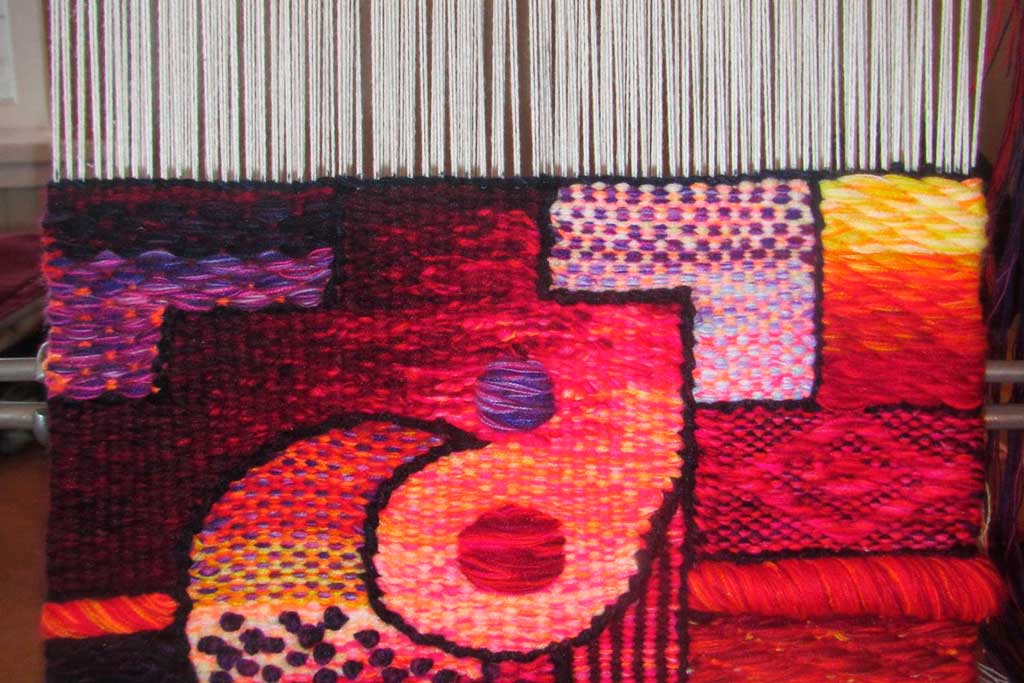 Workshops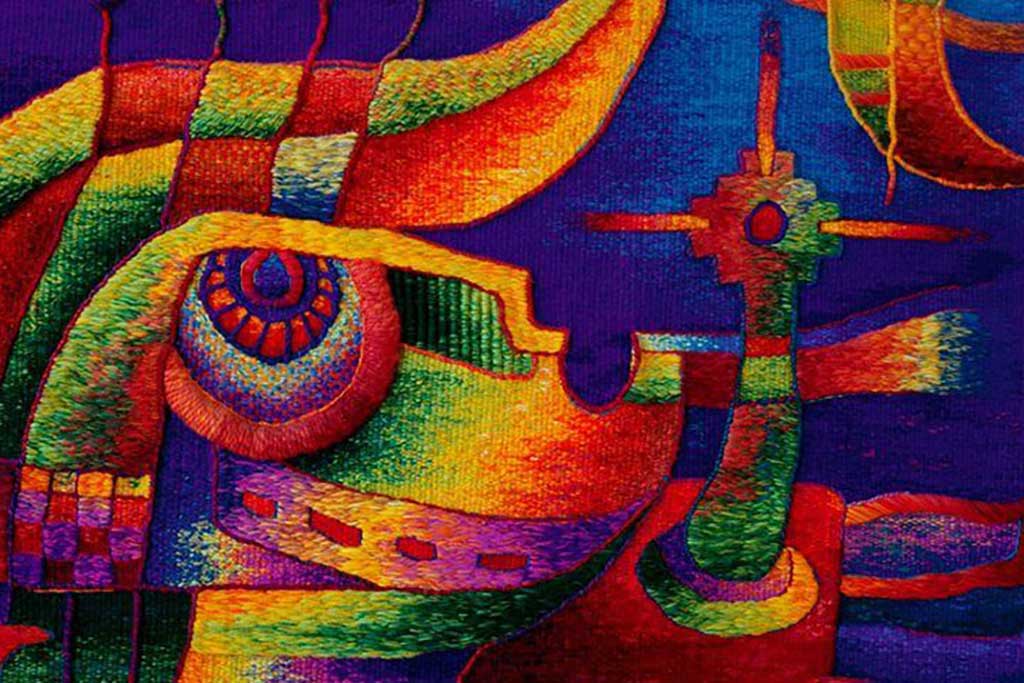 Award Winning Tapestries
"My artwork contains completely defined forms, whose personalities, iconographies and symbols take shape from magical realism."
"Color in my work serves as
one of the main ways transmit a message, an intimate contact with oneself and with the spectator. Color is a powerful wave of energy, light and depth in every section of my work."
"Living Human Treasure"
Maximo Laura was recently designated as one of Peru's Living Treasures. This important award is given, following UNESCO guidelines, to an artist whose role is to preserve and elevate the culture of their homeland.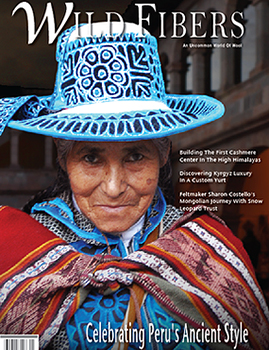 Wild Fibers Magazine
Obsessive…Feverish…Intense…Maximo Laura's distinctive style provides a bold interpretation of Andean Art
USA
Navlyn Wang
After seeing this beautiful tapestry by Maximo Laura I was convinced I was not leaving Peru without making the purchase. Giancarlo Soldi, the Maximo Laura Studio Representative, filled us in on the story behind this unique tapestry along with many, many details behind Mr. Laura
USA
Murray Kalish
It was not feasible for me to purchase a tapestry when I visited the Museum in Cusco. But when I discovered I could purchase one via their website I was thrilled. There were many different styles to choose from and when I finally settled on one that I loved, I communicated, via email with them. My experience from start to finish was flawless: they responded when they said they would, didn't ask for payment until the tapestry was complete, and delivered exactly what I expected when they promised it would be there.
AUSTRALIA
Wendy Clark
Everyone who visits my home just sits and marvels at my tapestry with its intense colours varying weaving techniques. I love it. When visiting Peru my friend bought a tapestry from the gallery and had it shipped with no problems and once he had it mounted in his new house I knew I had to have one for myself. I found Dance of the Fire Gods was the perfect size and colours for my home. At dawn as the sun rises the flames in the tapestry come alive - it's my favourite time of day.
USA
Erik Feldotto
After seeing this beautiful tapestry by Maximo Laura I was convinced I was not leaving Peru without making the purchase. Giancarlo Soldi, the Maximo Laura Studio Representative, filled us in on the story behind this unique tapestry along with many, many details behind Mr. Laura.
About Maximo Laura Tapestries
Maximo Laura is an award winning, world renown Peruvian tapestry weaver who has exhibited in over 140 shows in 30 countries. He is the fifth generation of weavers and his work is rich in Peruvian history, legends & story telling. + Read more
Tapestries For Sale Online
Maximo Laura was born in Ayacucho, Peru. As a boy, he learned the tradition of weaving from his father, becoming the fifth generation to take this career.
Now, Mr. Laura has had over 140 exhibitions of his work in more than 29 countries, with his tapestries on display in places like the World Bank in Washington DC, and the UNESCO Headquarters in Paris. His tapestry art adorns the walls of discerning travelers who have visited the Museo Maximo Laura in Lima or Cuzco, and he is known to be one of South America's pre-eminent and most unique textile artists.
Taking his traditional weaving education and combining it with a lifelong study of art history going beyond the borders of Peru, Maximo Laura integrates traditional Andean symbols, myths and techniques with contemporary art style – creating unique tapestries that are both beautiful and meaningful.
Own a Piece of Peruvian Art – Tapestries for Sale from Maximo Laura
Each tapestry for sale is created by the Master Weavers at the studio is handmade to order.
Maximo Laura has hand selected and trained Master Weavers in his techniques, following his design process and the unique way he selects colors for the tapestry. Each tapestry takes 4-5 weeks to complete – a single Master Weaver will build the art, combining multiple threads to make colors so intricate that from a distance it looks like a painting.
The creation process for Maximo Laura's beautiful tapestries online starts with an idea. The pieces are created in 'themes' – a group of tapestries that share a common idea, the genesis of which comes from Andean tradition and contemporary art.
Favoring naturalistic elements and abstract shapes, each theme has a message and tells a story – making them more than just a beautiful piece of art.
Once the idea has formed, it is transferred onto paper in a small drawing. Intricate details are included, and when this is colorized (either with pencils or on a computer), the Color Laboratory matches the vivid colors to create 'butterflies' of yarn – solid color threads, mixed together to exactly match the hues seen by the artist.
At this point, the small drawing is scaled up and placed on the loom, where it acts as a guide for the weaver, not only for the colors to be used but also the different techniques and textures to be used.
As each tapestry for sale is hand woven by one artist, the tapestries are unique. They are made to order, and therefore they take time to complete and ship. When you have chosen your piece, you will receive photographs of your tapestry on the loom so you can see how it is progressing.
Order Tapestries Online – Direct from the Artist
The best place to buy tapestries online, especially unique and individually created pieces, is from the artist themselves. Working from his home studio in Lima, Maximo Laura is surrounded by not only talented weavers but a collection of the very best, iconic works that are available for viewing by the public. Since 1998, this Museo Maximo Laura has held the most important, richest visions that the Maximo has created; with the express intention to encourage and inspire others to create their art.
Living, breathing and creating Peruvian weavings for sale makes Maximo Laura the most notable tapestry artist of his time, winning awards and becoming a consultant, designer and lecturer on contemporary Andean textile design.
If you are ready to order a tapestry online of Maximo Laura's designs, you can choose from the catalog and bring Andean culture into your home.
– Read less