Maximo Laura Gives Ancient Andean Culture a Voice of Today
by Jayne Gently Gaskins for Fiber Art Now Magazine

In many villages throughout Peru, time has stopped. Indigenous people proudly wear traditional clothing that identifies their specific region and community, and they weave and dye the cloth using techniques developed by their ancestors thousands of years before them.
At the same time, there is another voice in Peru. It comes from master weaver, Maximo Laura, who has taken the iconography of his heritage and evolved it into the 21st century through his tapestries. His works translate the spirit of his culture into the world of today.
Maximo Laura is an internationally recognized, award-winning tapestry weaver and one of South Americas most respected textile artists, consultants, and teachers. His work can be found in private and corporate collections throughout the world, as well as in major museums such as the Museo de la Cultura Peruana (Peru), The Latvian National Museum of Art (Latvia), The Craft Museum of Finland, the National Museum of the American Indian (USA), and Le Musée de Bibracte (France). In addition, he is one of Peru's "National Living Human Treasures. This honor is awarded according to UNESCO (United Nations Educational, Scientific and Cultural Organization) guidelines to highly accomplished individuals who preserve the traditional culture of their respective homelands and actively pass this valuable knowledge on to younger generations.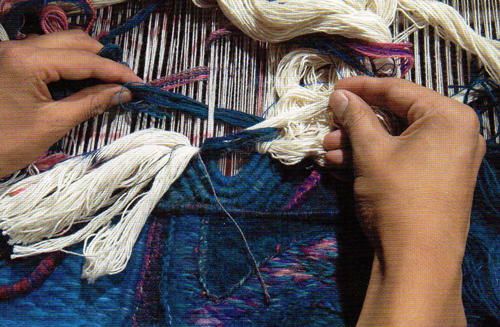 Moreover, the Peruvian Ministry of Foreign Trade and Tourism has awarded him Peru's highest honor in the arts, Amauta, a title that goes back to the Incan Empire, meaning "wise counselor." Despite all these accomplishments, Maximo Laura is incredibly humble and unpretentious. In response to his success, he simply says, "I am a very lucky man."
Peruvian Weaving through the Ages
To understand Máximo's art, you must first understand the world from which it evolved. This entails stepping back in time to the small villages throughout the Peruvian Andes where art has been a principal means of communication for centuries. Spanish is Peru's official language, but the native languages of Quechua and Aymara are still spoken throughout the country. Neither is written and both vary between regions and communities. Art is, therefore, a vital communication tool. The symbols and motifs displayed in the weavings and other art objects convey the essence of their culture, religion, and history.
When the Spanish invaded in the 1500s, they destroyed much of the indigenous culture and forced their religion and way of life on the natives. Recognizing the power of communication through art, one of the many indignities imposed on the natives was forbidding them to weave tapestries other than rugs for churches. Everything in their lives, including art and clothing, changed to reflect the dictates of the Spanish.
As with most oppressed people, the early Peruvians kept their ancestral religion and history alive secretly through stories and art representing their spiritual and cultural values. These were passed on from generation to generation. Resentment of what they had been denied grew, and they fought for, and won, independence in the 1800s. After the revolution, it became safe to resurrect what was left of the old way of life, and a new art emerged paying homage to the ancient culture. The Spanish influence, however, had taken a strong hold and the result was an amalgamation of cultures.
As time passed, pre-Columbian textiles gradually reappeared and can be seen today throughout the country, but with new twists. Many of the clothes are now adorned with buttons and sequins, some embroidery is done on sewing machines, and knitters often use reconstructed bicycle spokes for needles. Some ancient ways, however, have not been lost. Shepherds tending herds of camelids —llamas, alpacas, vicuñas, and the rarely seen guanaco — protect them from predators with sling braids that date back centuries. The animals are shorn and the wool is spun with spindles similar to ones used by their ancestors thousands of years before the Inca. It is a common sight to see Peruvian men and women on the side of the road spinning wool and cotton with hand­held spindles. Idle moments are never wasted.
While textile factories can be found in major cities, the backstrap loom is still the only method of weaving cloth in the highlands. Traditionally, the spun fiber is first dyed with natural dyes and fixed with natural elements. Next the yarn is warped on a backstrap loom for weaving with the ancient methods. These beautiful textiles are incredibly time-intensive. For example, it takes a month to weave a detailed piece about 5-foot by 18-inches. Textiles and other arts are often produced in family units where everyone contributes and the techniques are passed on from generation to generation.
Regrettably, some of the more intricate designs and processes are in danger of being lost. Often, tourists who are ignorant of the quality and value of textiles made with ancient materials and techniques are unwilling to pay "fair trade'prices. As a result, some artists simplify their designs and substitute acrylic yam to create pieces that can be sold for a greater profit to people who do not understand or value quality and heritage.



Enter Maximo Laura
This is the world from which Maximo Laura emerged. He was taught to weave by his father, also a master weaver, when he was nine years old and joined his family of accomplished weavers where he remained as an apprentice until he was twenty. When he left his hometown of Ayacucho, he took with him his love of weaving, inquisitive mind, and deep pride in his Andean heritage.
As a young man in his 20s, Máximo sold his tapestries to pay for his studies in literature. However, his love of tapestry took over and he devoted himself to his art. He is very highly self-educated and speaks knowledgeably about pointillism—a concept he uses in the blending of his colors—and numerous artists, movements, and cultural periods throughout history that have influenced his work.
His career was launched in the 1980s when he began adding his vibrant colors and forms to the pre-Columbian heritage designs and iconography to make them more contemporary, while still maintaining the spirit of the message. At that time, this was considered very avant-garde.
Máximos passion and love for his culture and art transcend languages. His calm, gentle nature is magnetic and reveals a deeply spiritual being at peace with himself and the world around him. This intrinsic strength comes alive in his designs and to fruition on his looms.
Weaving Into the 21st Century
Máximo turns to the technology and tools of today to express the voice of his ancient culture, and explains, "The idea is to live in this time because my responsibility is for my time and this society." His work is in great demand; so he established a workshop in Lima where he has 38 looms, as well as areas for his materials, design space, and exhibition. Craftspeople he has personally trained handle the time-consuming technical aspects of production, but his work is, by no means, mass-produced. Each weaving is his personal one-of-a-kind design and he closely supervises the entire process.
Computers are also a vital part of his operations, both for communicating with the world beyond his studio and country, and for his designs. The tapestries start with a simple line drawing (cartoon) that Máximo then scans into Photoshop where he adds colors and plans his textural elements. In his early days his designs began in the form of paintings, but today he finds Photoshop much faster and more flexible.
The next step is to select and blend the yarn colors. Máximo has hundreds of colors of alpaca and cotton yarn— far more than his ancestors ever dreamed of. But, to create the exact shades he needs, he borrows from the concept of pointillism and groups multiple colors of yarn to fool the eye into seeing tonality that could not exist otherwise. Once the colors and designs are finalized, the cartoons are drawn on the warp (vertical) strings of the loom and the slow, irreversible process of weaving begins. Here shapes are filled in and the textural elements using supplemental wefts (horizontal strings), techniques he developed, and is known for, are added.
Máximo is committed to sharing his knowledge. He holds multiple conferences, symposiums, and workshops, and is passionate about inspiring young people. He is in the process of writing a book about his art and is also establishing a museum and a library. The museum will house his tapestries from the last fifteen years, as well as the original paintings and cartoons from which they were produced. His collection of more than a thousand books will move to the library.
His reach extends far beyond his Peruvian borders. Máximo is a cofounder of REDTEXTILIA (Ibero-American Textile Network) and CEPART (Peruvian Center of Textile Art), which promote Ibero-American textile culture through events and education. In 2014, Peru will host the first National Textile Biennial, and in 2016, the Ibero-American Encounter of REDTEXTILIA along with the first International biennial textile (Texturas), which will be held in Peru.
Through Maximo Laura and others like him, the legacy of ancient Andean art and culture lives on.
Learn more about Maximo Laura