Interview with Maximo Laura
Tell us about your work
The interview with Maximo Laura begins and he tells us, Tapestry-making requires a progressive, slow and irreversible system of work that allows for the miniscule, patient and intimate meeting of technical and visual solutions, leading to the opening of an infinite repertoire of possibility, subjected to the communicative intentionality of the work. In my case, I look for a language that emanates spirituality, aesthetic beauty and lyricism. I try to submit myself to the limitations of the materials and to the requirements of the act of creation, under the light of an obsessive taste that will, in the end, reflect a cultural and textile connotation that is typically Peruvian.
From where do you get your inspiration?
The images are born in my long walks and travels, in exhibits, museums, galleries, books and multimedia information. These sources help to stimulate my creative spirit, leading me to encounters with vibrant and intense colour, with elaborate and symbolic form, as well as with the refined technique of my tool: the loom. Then follows the search of a lyrical, spiritual, poetic language, culminating in a product of this part of the continent and of this time.
Why did you choose to go into fibre art?
It is an activity I encountered in my childhood and I remember it fondly because I received a gift from my father after having completed my first woven piece. These experiences with my father motivated me to continue, improve, explore, research and discover new paths. My inventive imagination coupled with skills in drawing and painting gave me an avenue towards the personal realization of weaving and this inspired within me, a passion for fibre art.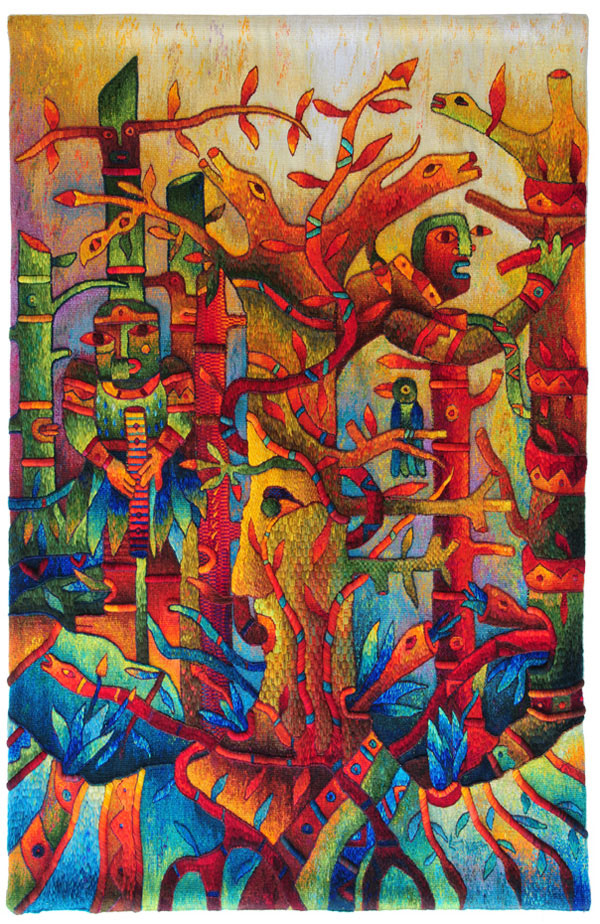 What other mediums do you work in, and how does this inform your fibre work?
My artwork contains completely defined forms, whose personalities, iconographies and symbols take shape from magical realism. These forms are each coloured with a symbolic evaluation. Taking these aspects of the creation of a tapestry into consideration, it requires that I design the cartoon. That is to say that the process requires me to be a proficient drawer, designer and colourist, as well as a painter.
What bridges the works that you have created in differing media?
I find in many aspects of life, the history, nature, thought and cultures of man of this time, to be elements of sensibility. That sensibility is what moves me with visual arts and the formation of art. Particularly art that works with the abstract and spiritual, art that is vibrant and explosive and art that covers a harmonic range of colour.
Which is your favourite fibre medium?
My favourite medium would be the fibre of alpaca and cotton. I enjoy any fibre that feels smooth and that has resistance to tension.
What specific historic artists have influenced your work?
The thousand-year old Peruvian textile is an inexhaustible source and has deep connotation. Its symbolism, abstraction, and stylization are moving and have contemporary relevance and I find it to be both fantastic and inspiring. Those anonymous artists are known as part of the culture. There are those that I prefer, for example artists from the Paracas culture, due to the fascinating range of colour and the powerful and complex mythical characters. Another is Chavín culture for its stylizations and fantastic mythological naturalism and Huarí culture for its abstraction, composition and audacious colour. I also like Chancay culture for its lines and restrained contemporary colours.
What specific contemporary artists have influenced your work?
I find many contemporary visual artists to be interesting, as well as the great work that the Aubusson workshop realizes. Principal artists are:
Jean Lurçat (France, 1892-1966) is a painter and advisor to a team of weavers in the Aubusson Workshops, Creuse. His work is a legacy of extraordinary art and a base for the acceptance of weaving as a visual art. Many of his works are impressive and a source of inspiration to me.
Olga de Amaral (Colombia, 1932) is a textile artist who is very important in the field of textile art. Beginning with the use of traditional Colombian textile in two-dimensional form to three-dimensional form of abstract art, her art is impressive and mysterious.
Sheila Hicks (USA – France) is a textile artist and a promoter of fibre art. Her works, especially those in big format, are valued greatly and invite me to dream as an artist of the infinite possibilities within textile art.
Fernando de Szyszlo (Peru, 1925) is an abstract painter who takes the essence of pre-Hispanic Peruvian artists and uses that essence to create contemporary art that combines his personal language with vitality. I am amazed by his extraordinary use of colours. This artist is mysterious, elegant, expressive and innovative: completely inspiring.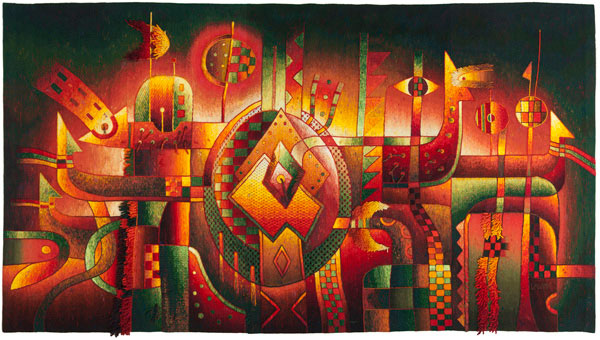 What other fibre artists are you interested in?
In reality, there are important artists worldwide. I am interested in the work of Josep Grau-Garriga (Spain), and other sculptural textile art.
Kela Cremaschi (Argentina-Italia, 1940) is a textile artist, master weaver, immensely creative and a humanist. Her works stand out particularly for her own technique in weaving.
SILKE (Austria-Argentina, 1943) is a multidisciplinary textile artist, whose style with colour, spirituality, humanism and contemporary vision of humanity shows a deep reflection of life.
What role do you think fibre art plays in contemporary art?
Fibre art fulfills an important role in visual arts: it is the patrimony of cultures, an expression of the reality of the people and of nations. It is a mode of political action, as well as a particular esthetic view. Fibre art in some of its techniques as a woven tapestry in our time is a showing of patience and a genuine expression of patience and virtuosity. It is also a genuine expression of the people and a valid testimony for the history of humanity.
Can you talk a bit about the commercial viability of fibre art and do you find it more difficult to show and sell your work than non-fibre artists?
In the beginning of my work in the 1980s, the basis of my work was in innovation, design, colour and technique. I was looking for a personal language that would allow my work to be accepted in centers of distribution and along those lines was heading along a route to creating my own line of textile art. Through the years, I have always lived for weaving.
What is your philosophy about the Art that you create?
My philosophy is to work honestly with the best and greatest of feeling, emotion, spirituality and energy. I want it to serve as a voice to this age and time, its territory and thought, as a form of testimony. I believe in life as a marvelous opportunity of self-realization with that which one creates and to have that which I create transcending time.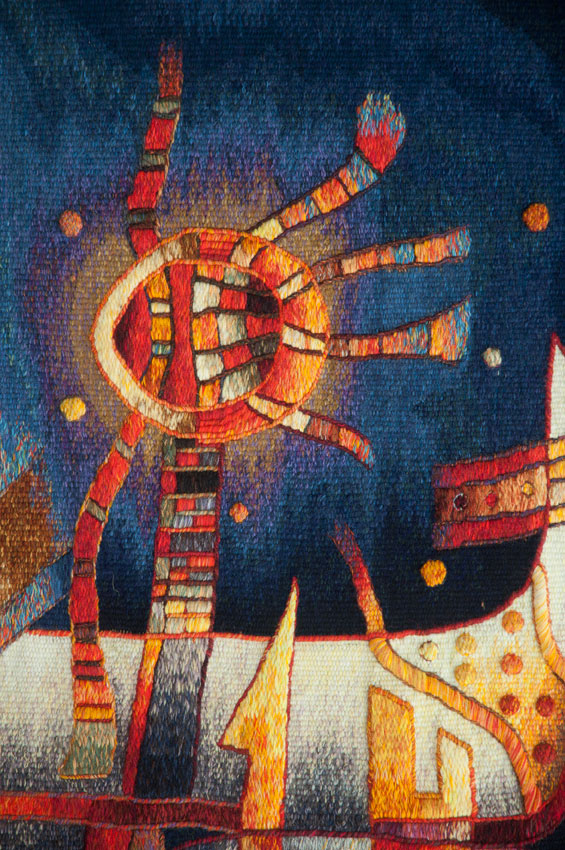 Are you attempting to evoke particular feelings in your audience?
I hope to provoke an encounter with an explosion of colours that generate joy and positive emotion. Through the use of profound subject matter and lyrical, poetic and spiritual messages, I hope as well to provoke vitality, continuity and renovation. Equally, an encounter with technical detail and audacity, both mysterious and age old, that generates a reflection of the infinite possibilities in life and knowledge that one can dream and that anything is possible.
When did you first discover your creative talents?
I had the good fortune as a child to have access to collections of books that displayed the grand masters of the world of painting, and this inspired me to draw and paint reproducing their works. From these drawings and paintings I learned ability within me that I liked greatly, and later in my father's workshop manifested itself in exploration, investigation, and creation of new things. After having attended an exposition of art by the Argentine textile artist Kela Cremaschi, who lived in Lima in the 1980s, I decided to pursue design, painting, and art of other kinds for use in the creation of my tapestries.
Please explain how you developed your own style.
The work begins with a linear design, from either a sketch or as a continuation of another design, giving place to a series of designs on a theme. These drawings are then painted as a projection to the full size of the tapestry. In the painting it is therefore necessary to consider what will be woven, and to keep in mind the limitations of the weaving. It is prepared as a cartoon, with the characterizations of measure, interpretations of colour, technique and finishing. The materials are then selected and the colours blended to correspond to the painting. It then goes to the loom with all of the aforementioned materials principally applying the Laura technique. After cutting the tapestry from the loom, the tapestry is finished and hung as a work of art.
Have you experienced fluctuations in your productivity and how have your expectations changed through the years?
From the 1980s to the present I have dedicated myself completely to weaving, principally in tapestry form. In that time, I have experimented with colour, technique and design, teaching and promoting my country to the world. In all this time, the focus of priority in these aspects was the difference, and there have been times where the research of techniques, exploration of colour, depth of theme, promotional trips, teaching of youth, etc were the forefront of that priority. It is the mural that perpetually attracts my attention, as well as the development of sculptural and constructive artworks. I believe I am very lucky to have taken this path with weaving. I am very fortunate where my goals have always been exceeded by what I was looking for, and for that I am thankful for the life I have lived. Also, I am fortunate to live side by side with talented and creative personal assistants in my workshop.
What project has given you the most satisfaction and why?
To complete works in the form of mural and miniature are two examples of projects that give me great satisfaction. Through them, I am able to develop profound themes, intricate and essential to the soul and the thoughts of man. I am able to stop and reflect, to think about the details of each element in the composition of the work. It is a form of birth of a work largely cared for and anticipated, as well as a feeling of peace and love of self.
Learn more about Maximo Laura
Cusco 2024
Del 16 – 24 de Mayo
Buenos Aires 2024
Del 3 – 9 de Julio