My work is nourished by symbols, stories, traditions, rituals, experiences, and by permanently returning to admire the iconography of ancestral world cultures, especially Peruvian cultures. These experiences inspire me to discover, explore and absorb contemporary visual arts, which exist lavishly, choosing the one that moves me and fits the direction of my visions of totem images, of symbolic characters and landscapes, and of my experience; developing ancestral patterns that are essentially Andean – Maximo Laura
Maximo Laura (Ayacucho, Peru), is an award winning tapestry weaver internationally recognized as one of South America´s pre-eminent and most unique textile artists. He is a consultant, designer and lecturer on art and contemporary Andean textile design. His work is the integration and synthesis of ancestral weaving techniques, symbols, memories, myths and rituals with contemporary art.
Laura is the fifth generation of weavers that learned his craft as a child at the side of his father while growing up in Ayacucho; he learned his art by never silencing the internal self-exploration or the external exploration of the world, including a life long study of art history and literature beyond the borders of Peru.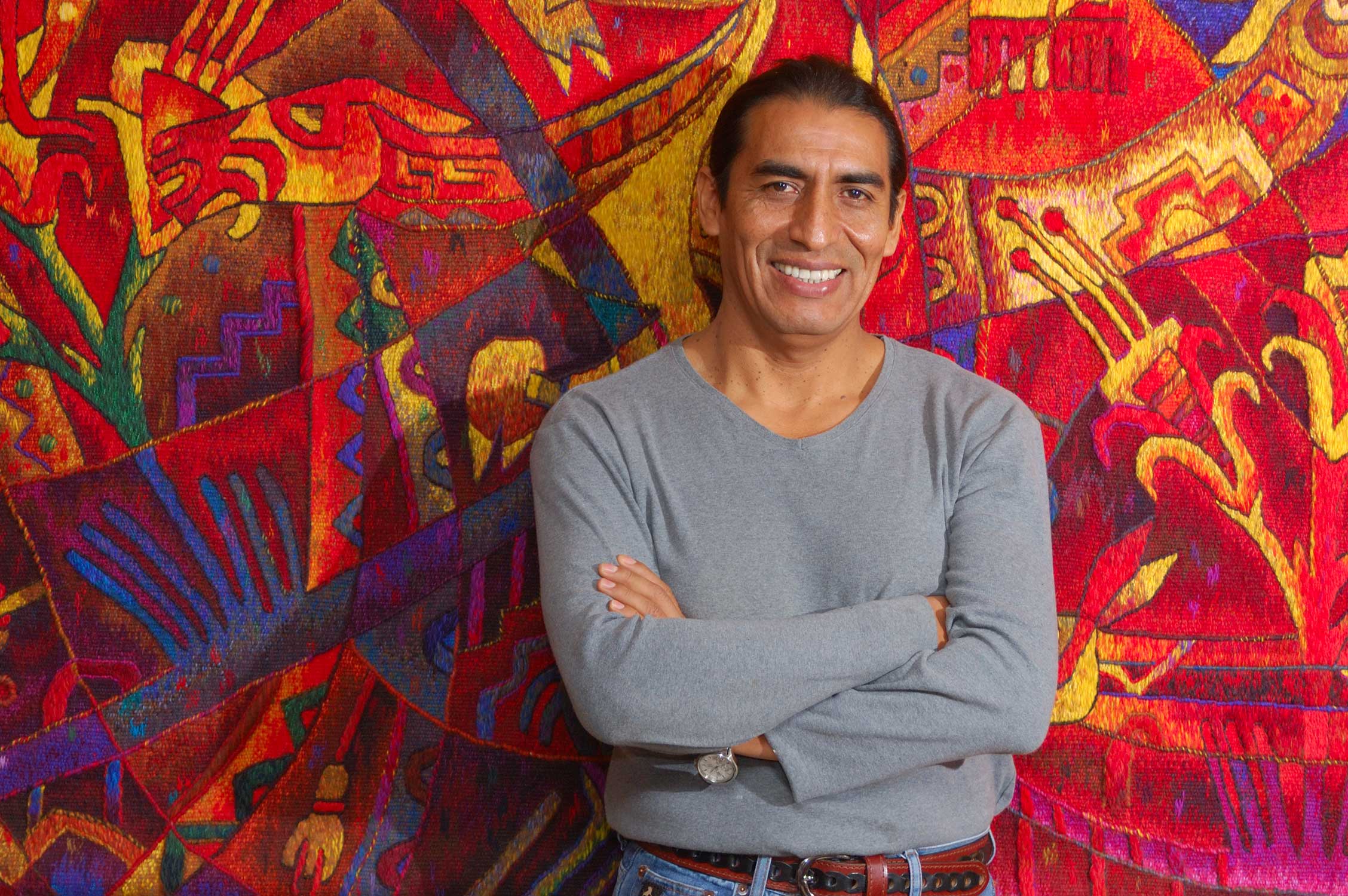 While he now lives and works in Lima, his work is deeply imbued with the legends and storytelling of his Peruvian heritage and with his own very compelling life experiences. Laura draws from many sources of inspiration, such as Chavin culture which is expressive and totemic; Paracas which is colorful and strong; Nazca and Huari for their geometric forms; and Chancay for its sobriety and linear spirit.
Maximo Laura´s vision proposes the promotion of Peruvian contemporary textile art on international stage, which has been the underlying and fundamental purpose of his artistic mission for the last 30 years.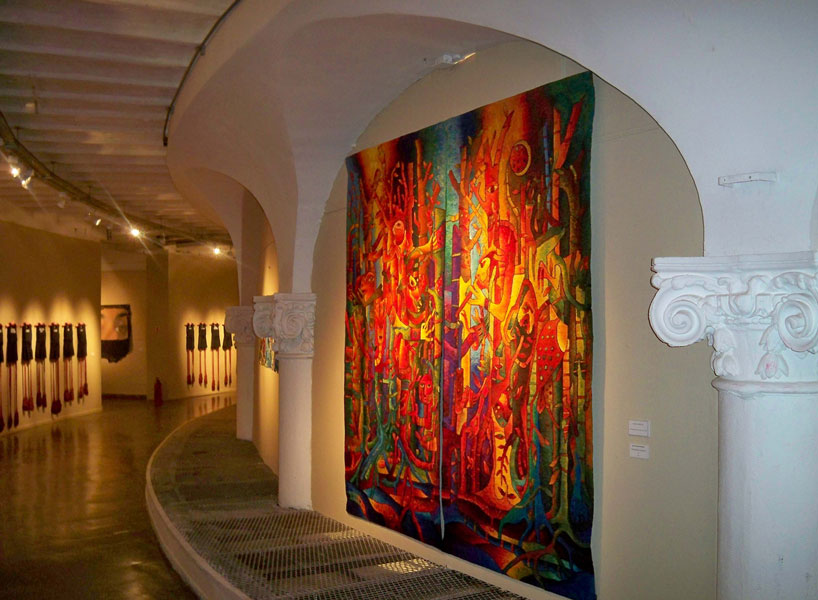 Owners of Laura´s work include the World Bank in Washington D.C., the UNESCO Headquaters in Paris, the Smithsonian´s National Museumof the American Indian, the Museum of Iberoamerican Craft in Spain, the Museum of the Americas in Miami, the The Latvian National Museumof Art and the National Museum of Peruvian Culture.
Since his first exhibition at the Cultural Center of Buenos Aires, Argentina in 1985, work of Maximo Laura has been in over 140 exhibitions in more than 29 countries (China, USA, France, Italy, Poland, Belgium, Australia, Cuba, Argentina, among others), with solo exhibitions at the Musée de Bibracte (France), the Smithsonian´s National Museum of the American Indian (USA), the Textile Museum (USA), the Museum of the Americas (Costa Rica), the Museum of Decorative Arts and Design (Latvia), the Craft Museum of Finland, among others.
Maximo Laura is co-founder of Iberoamerican Textile Network and the Peruvian Center of Textile Art. He is also member of the American Tapestry Alliance, the European Tapestry Network and the British Tapestry Group.
His work has earned many awards, including "National Living Human Treasure"of Peru, "Manos de Oro" (Golden Hands) of Peru, "National Amauta of Peruvian Craft", "Master of Iberoamerican Craft" and the UNESCO Prize for Latin America.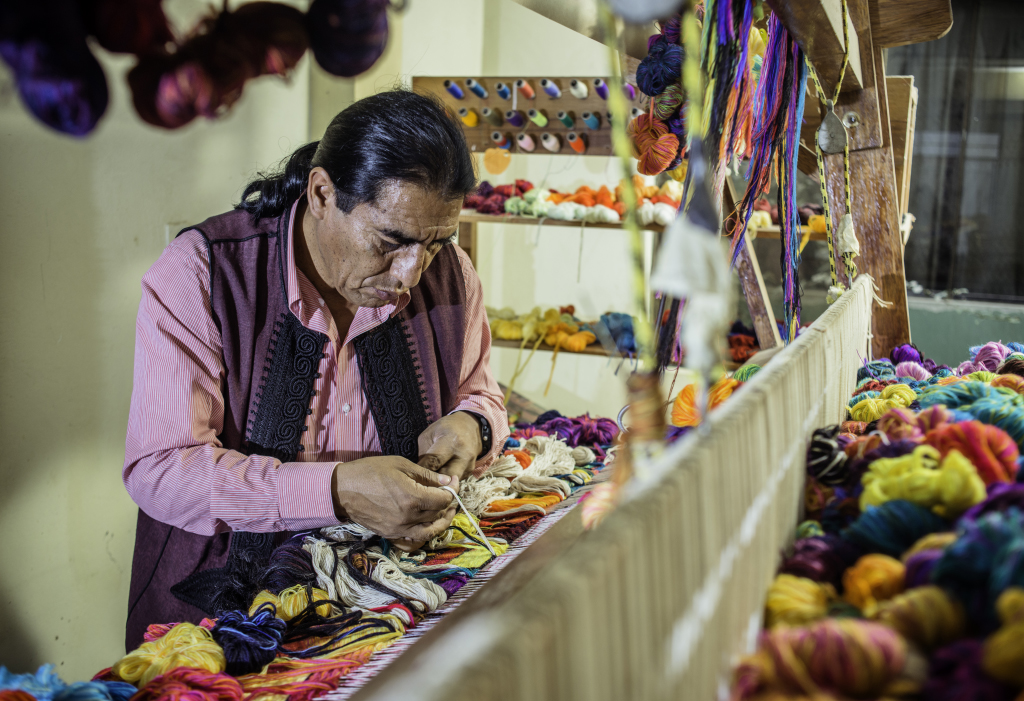 Selection of Artwords in Collections
Award for Excellence, WTA – VI International Biennial of Contemporary Textile Art, MEXICO

Outstanding Award, "From Lausanne to Beijing" 6th International Fiber art Biennale, CHINA

Special Prize, 4th Riga International Textile and Fibre Art Triennial Tradition & Innovation, LATVIA

Honorary Mention Award, 13th International Triennial of Tapestry, POLAND

Mention Prize, 5th International Biennial of Textile Art, ARGENTINA

Bronze Prize, "From Lausanne to Beijing" 5th International Fiber art Biennale, CHINA

II Award – Silver Medal, Scythia 7th International Biennial Exhibition on Textile Art, UKRAINE

HGA Award in recognition of a outstanding work, Handweavers Guild of America, USA

People's Choice Award, Land: the Tapestry Foundation of Victoria Award Exhibition, AUSTRALIA

"Best in Show" Contemporary Latin American Art 8 organized by Museum of The Americas, USA

1st Place Award, Small Expressions 2009, USA

"Grand National Prize Amautas of Peruvian Handicraft", Government of Peru, PERU

1st National Craft Prize "Golden Hands", PERU
Selection of Artwords in Collections
National Museum of Peruvian Culture, Lima, PERU
Smithsonian's National Museum of the American Indian, Washington DC, USA
The World Bank, Washington DC, USA
Headquarters of United Nations Organization for Education, Science and Culture (UNESCO), Paris, FRANCE
Iberoamerican Museum of Craft, Puerto La Cruz, VENEZUELA
Museum of the Americas, Miami, USA
Museum of Craft, Jyvaskyla, FINLAND
Museum of Iberoamerican Crafts, La Orotava, Tenerife, SPAIN
The Latvian National Museum of Art, Riga, LATVIA
Torre Tagle Palace, Ministry of Foreign Affairs of Peru, Lima, PERU
Word Textile Art Organization, Miami, USA
Museum of Art and Popular Traditions of Riva Agüero Institute, Lima, PERU
Andean Institute of Folk Arts Andrés Bello, Quito, ECUADOR
Ministry of Industry, Tourism, Integration and International Trade Negotiations, Lima, PERU
Interamerican Center of Craft and Folk Arts, Cuenca, ECUADOR
Iberoamerican Association for the Development and Marketing Crafts, Lima, PERU
Ricardo Palma Private University, Lima, PERU
Embassy of Peru – Washington DC, USA
Embassy of Peru, Quito, ECUADOR
Embassy of Peru, Asunción, PARAGUAY
Embassy of Peru, Helsinki, FINLAND
Former President of Latvia Ms Vaira Vike-Freiberga, LATVIA
Learn more about Maximo Laura
Cusco 2024
Del 16 – 24 de Mayo
Buenos Aires 2024
Del 3 – 9 de Julio